Presentation of the editor
The editor interface is divided into three areas:
The left zone lists the different interactions available, the central zone displays the marker on which you want to add interactions and finally the right zone lists all the options of your interaction.
---
The interactions screen is divided into three areas: the right area lists the current interactions of the marker you are viewing, the middle area displays the current marker you want to augment and, finally, the left part lists all different interactions available.
To add an interaction, just drag and drop one of the icons located in the left column. Once the button is positioned on your marker, you may change its position and size by pulling corners. You will also be able to do these actions more precisely by changing the size and position values directly from the interaction properties in the right column, in the interaction properties.
If you want to regularly reuse the content of an interaction (image, video, 3D object, PDF, ...), you can take advantage of the "Media Library" page.
For more information, please consult the following article: HERE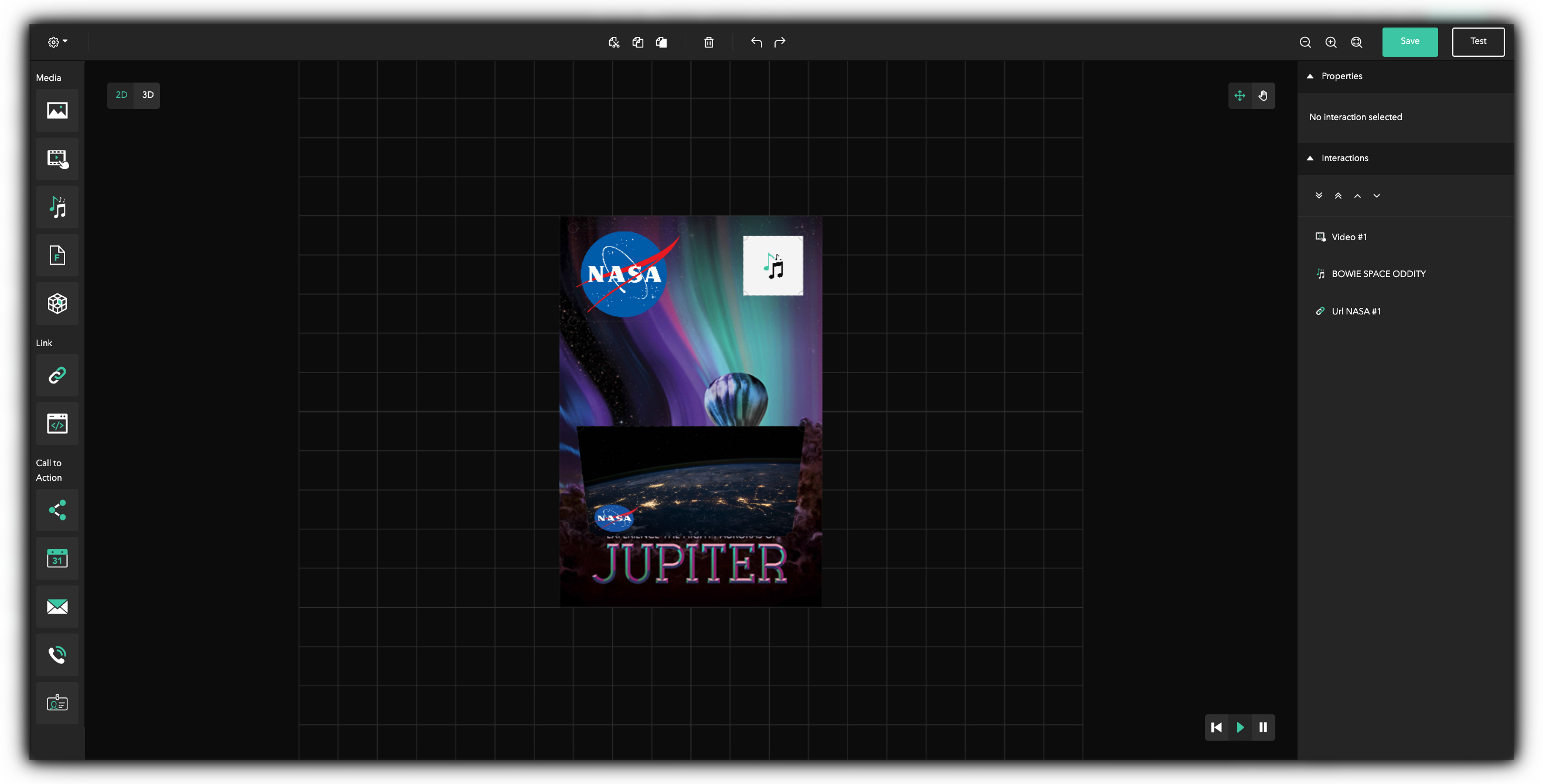 ---
Editing an interaction
Once your interaction is positioned and at the right size, you can edit its parameters by modifying its "properties", indicated in the right column.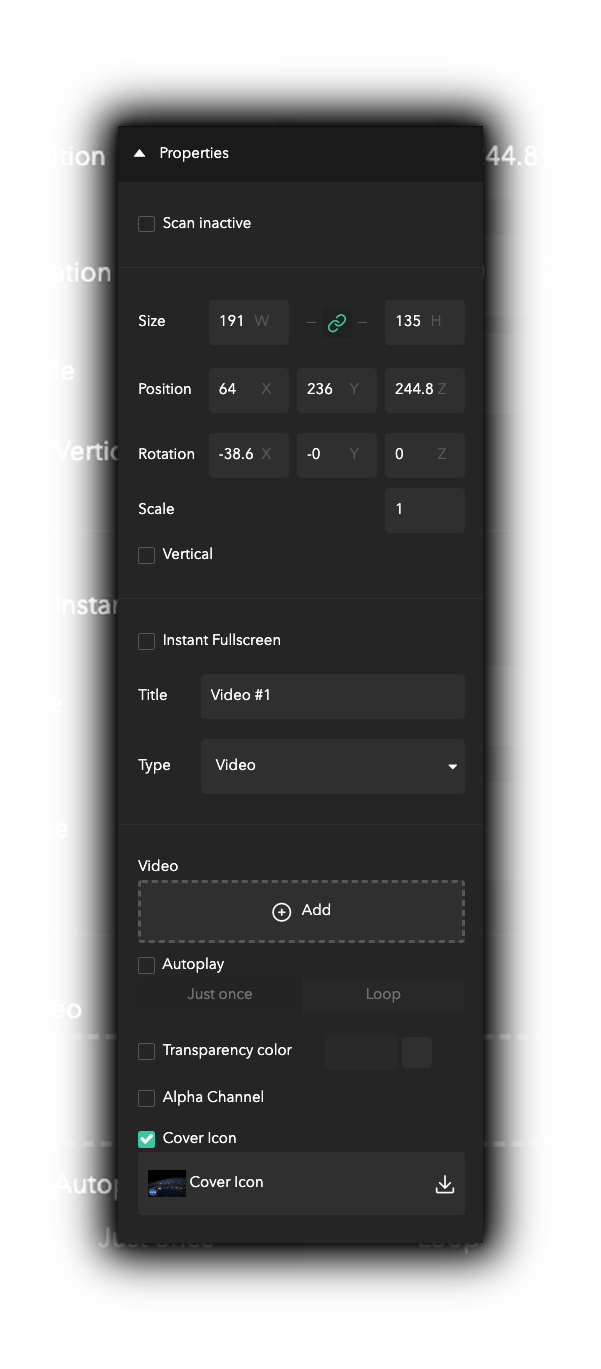 Several additional parameters can be set. For example, for the "URL" interaction: the URL of the page where the user of the mobile application will be redirected when he clicks on the interaction, the image associated with the interaction, the behavior of the interaction at the time the marker is scanned, ...
The image associated with the interaction can be selected from the Media Library or imported from your computer. You can also choose the "no cover image" option to render the interaction invisible when the marker is scanned, although the area covered by the interaction will remain clickable.
---
Instant fullscreen
If you don't want to use augmented reality and prefer display one of your interactions in the foreground of the application when the marker is scanned, you can activate the "Instant FullScreen" option.
This option is only available for URL, HTML, Video and Audio interactions. Enabling this mode on a specific interaction will hide any other interactions.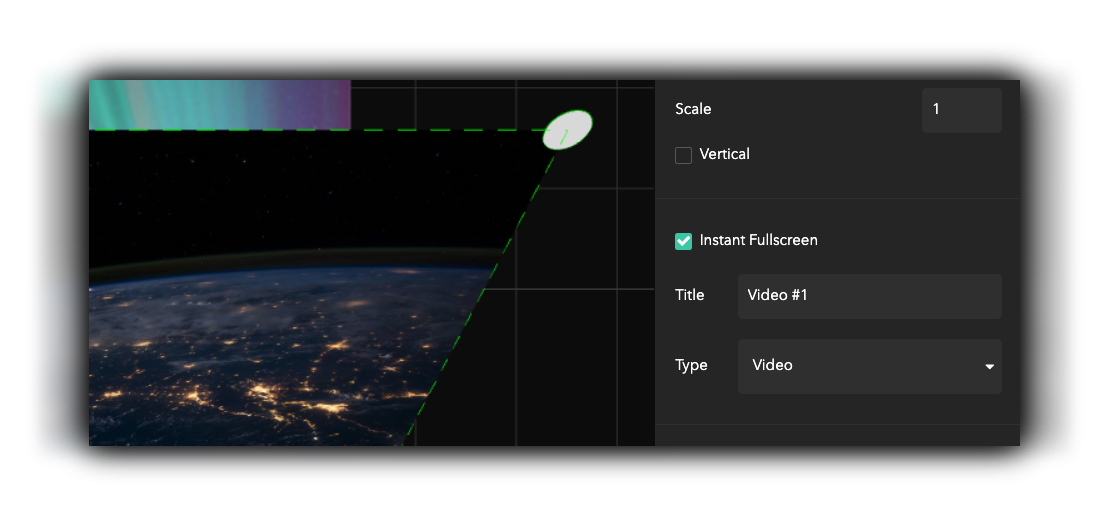 ---
Vertical orientation
If you don't have 3D content available for your campaign -which usually comes with a higher production cost- we recommend you to take advantage of the "vertical orientation" option. This will work for 2D interactions, including animated GIFs, and provide your mobile users with a 3D immersive effect.