Are you wondering how to make the most of the ARGOflow solution for your business and your documents? Find below some examples and use cases of augmented documents.


The signing of a quote or sales proposal is always a pivotal step in the sales process, which may lack warmth or raise questions from your client. Thanks to the augmented quote, improve your customers' commitment rate at that crucial moment:
Add contact links (phone, email...) so that you can be reached quickly and easily from a mobile or desktop
Add some editorial content: video, audio, attachments, useful links...
Ex: https://argo.argoflow.io/argoquote.sl?sl=604f9834037c630048bf427a
Turn your PDF invoices into intelligent devices and improve customer relations.
Access to personal profile
Promotional content
Detailed explanations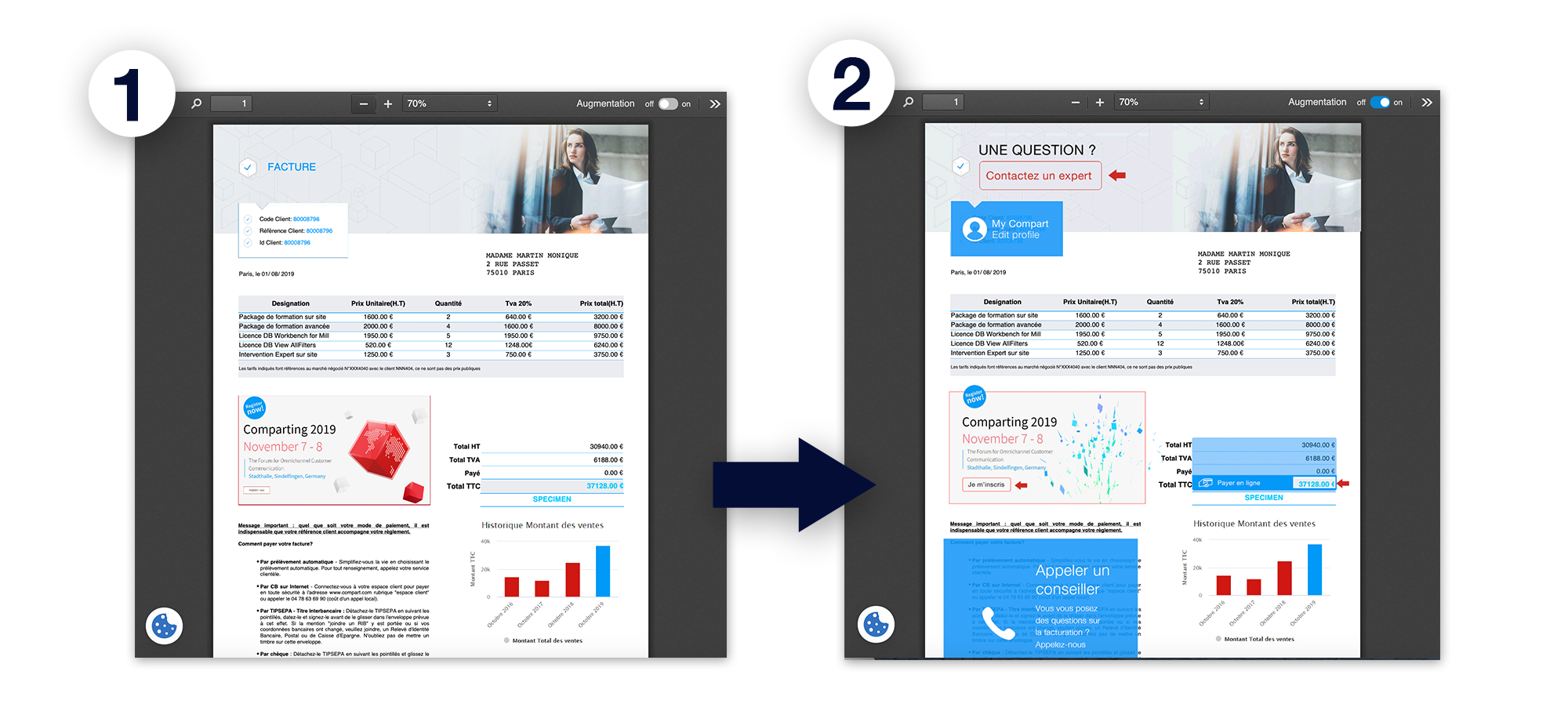 Ex: https://argo.argoflow.io/compart.sl?sl=5f8dc04ec8b277037c3cffc2
Your bill can also be an upsell device for third-party partners and products, such as this energy bill example that suggests you equip your home with double and triple glazed windows to reduce your bill. The selection of the type of glazing automatically adjusts the amount of potential savings.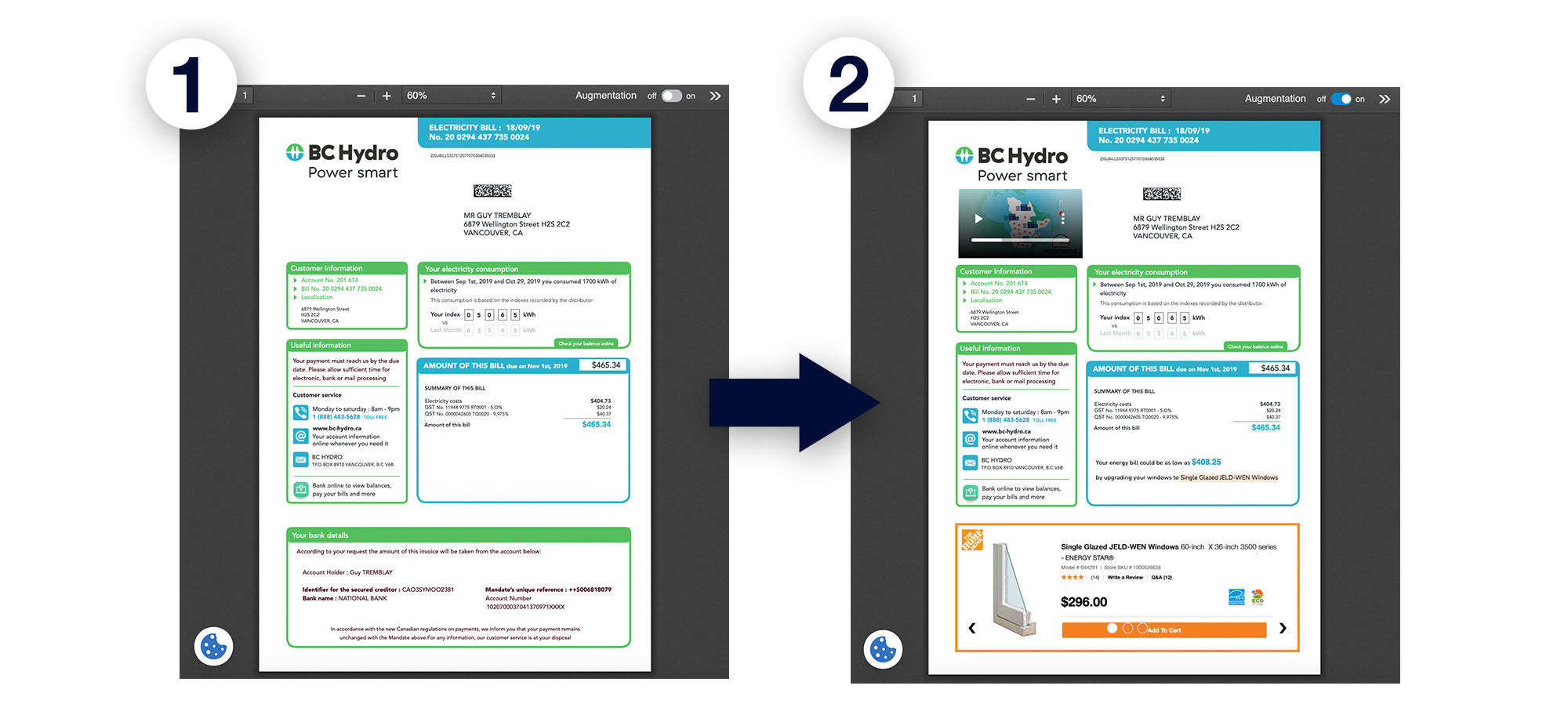 Ex: https://argo.argoflow.io/bchydro.sl?sl=5f8dbee5c8b277037c3cffba&q=
Take advantage of the spaces around the document to provide useful explanations and enrich the user experience.

Ex: https://argo.argoflow.io/xfinitystatementdemo.sl?sl=5f9055bed6be7300480784ef
Many corporate documents are produced each year during the life of a company: annual reports for the press and internal teams, shareholder communications, meeting minutes and training guides. These are all opportunities to enrich these static PDF documents with high value-added editorial content.
Click on the audio buttons in this document to listen to the presentation of each slide. A good example of the use of the "audio" asset.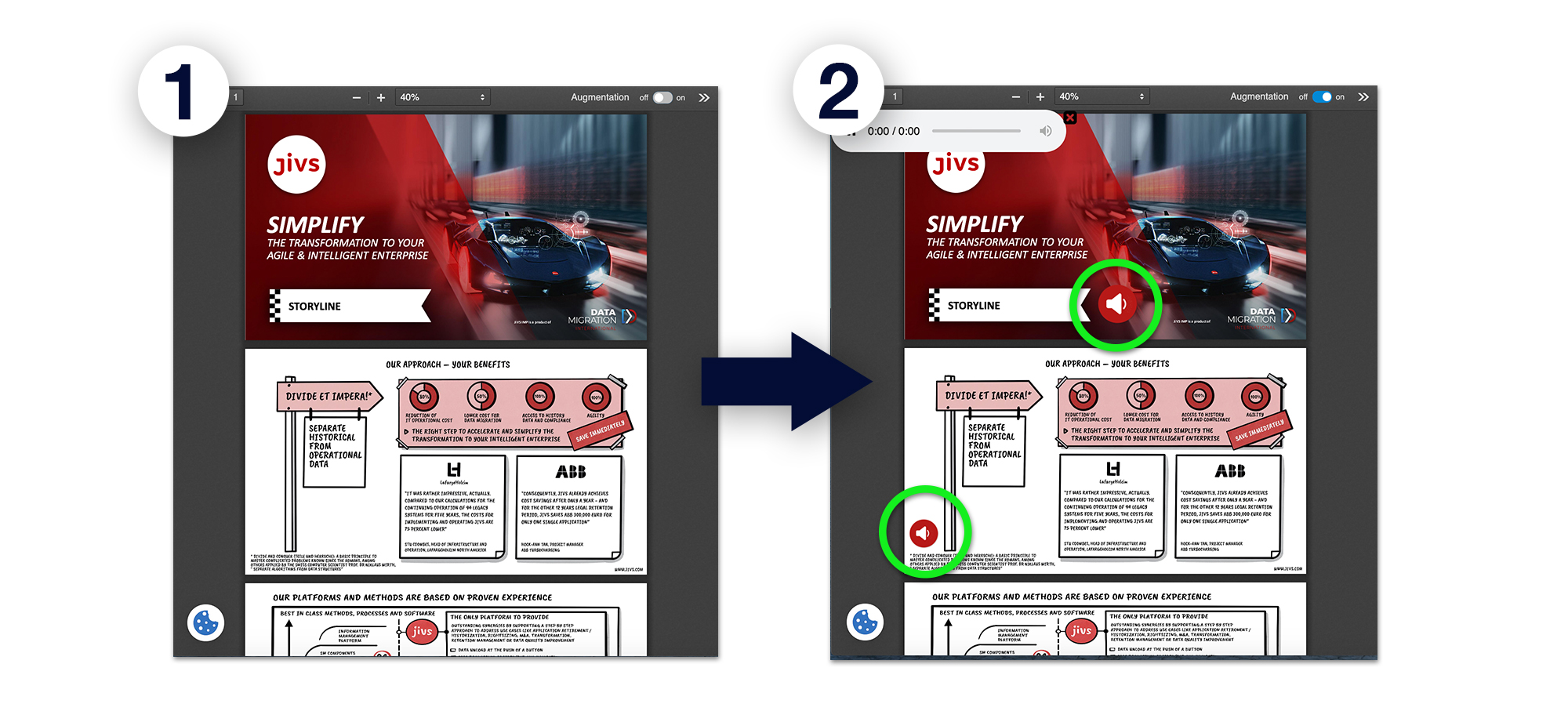 Ex: https://argo.argoflow.io/jivsimpsummaryv2.pdf(copy).sl?sl=5fb6e9a62f19b637115a54eb
The annual report below also presents examples of video and editorial content enrichment to transform a simple PDF document into a powerful, interactive and useful communication tool.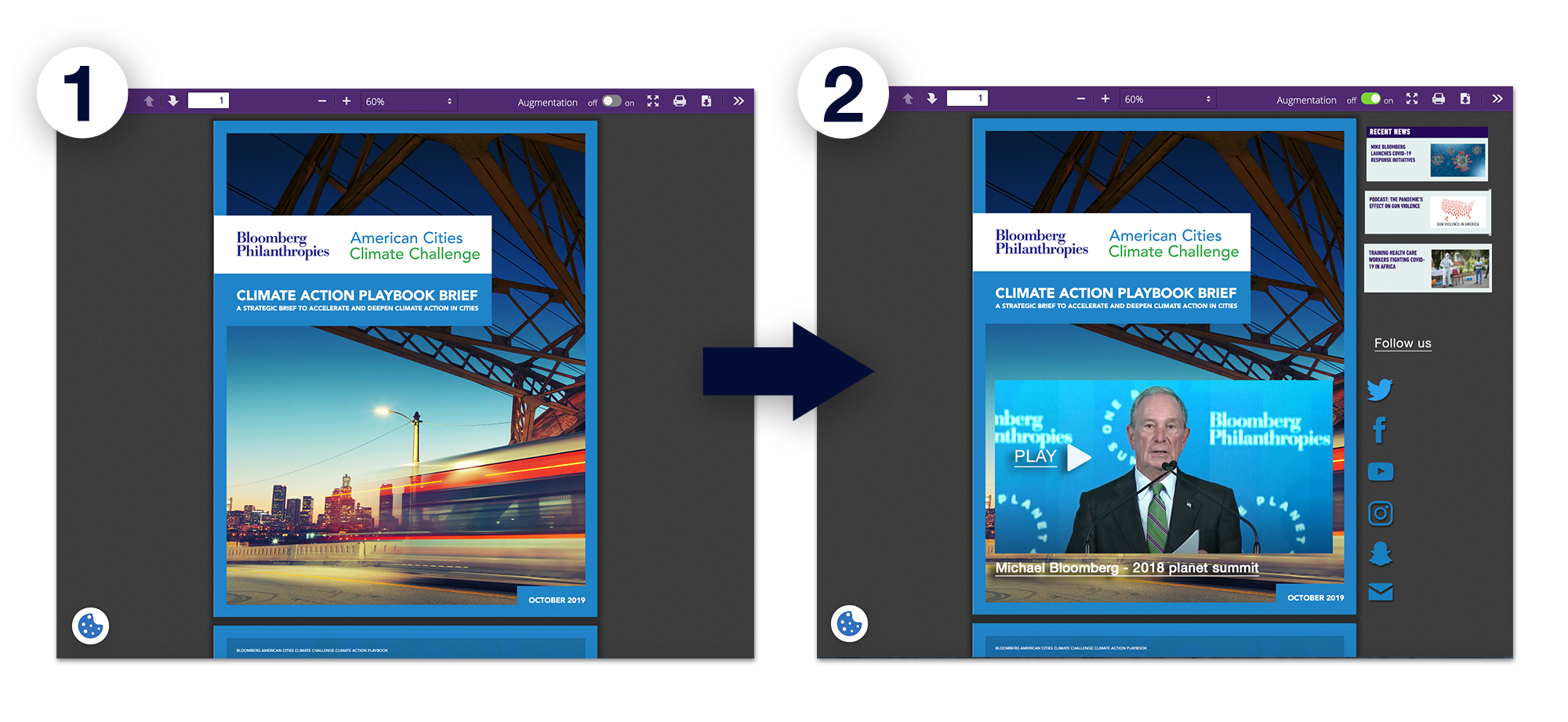 Ex: https://argo.argoflow.io/argoforbloomberg.sl?sl=5f11ed2a8191280044984873&q=
Complete your product pitches with useful links (social networks, promotions) and add an extra level of understanding with videos, audio content or more advanced Html iframe integration (ARGO Advanced only), like the 3D video player in the example below.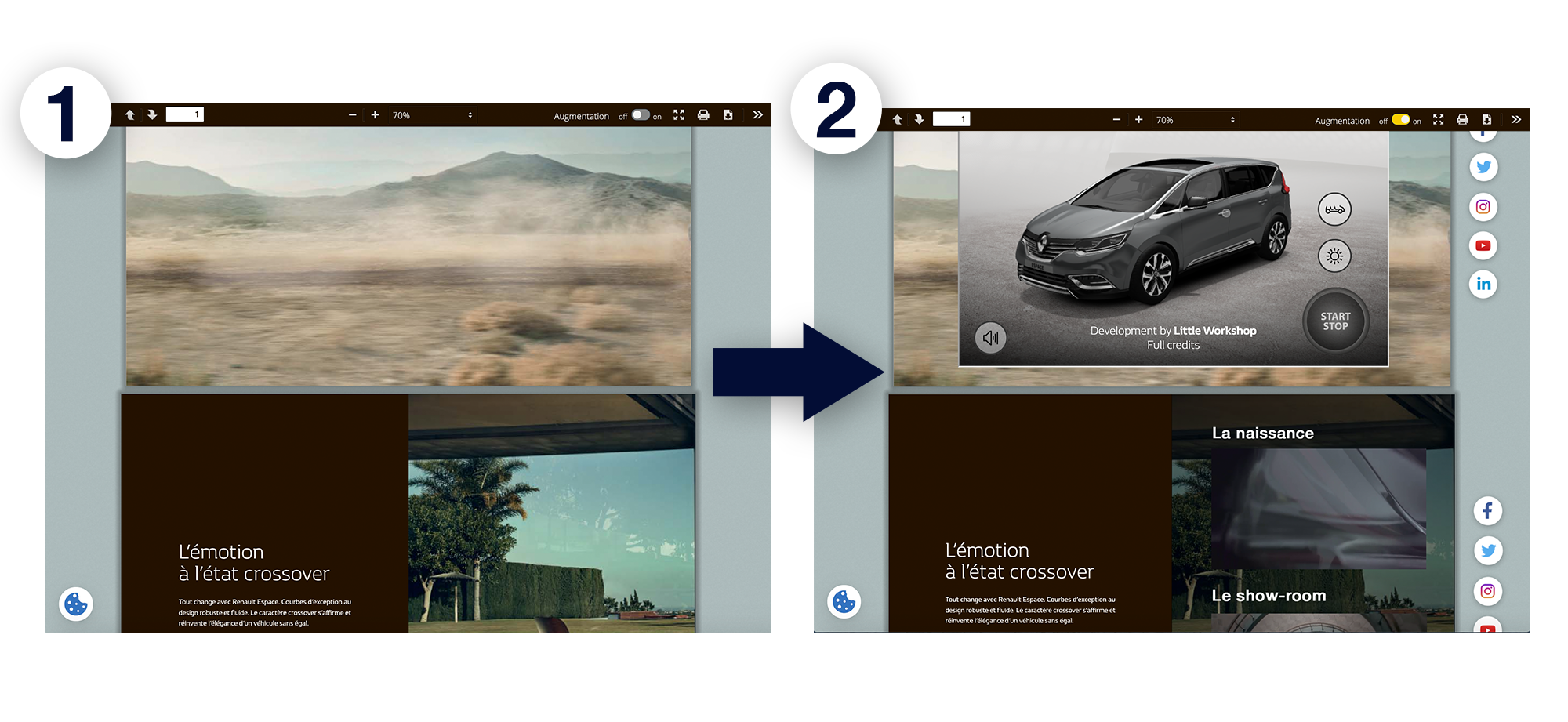 Ex: https://argo.argoflow.io/renault.pdf.sl?sl=604bebbe037c630048bf425e
Your PDF document becomes a 360° communication vector and the gateway to a rich branded universe.

Ex: https://argo.argoflow.io/sapcustomersuccessstoryceleritechchestnuthillfarms.pdf.sl?sl=5f8f57323f71430055a02860&q=
And still keeping the ARGOflow advantages:
No more heavy attachments, share a single link that triggers access to your documents

Control every aspect of your distribution, even after your document has been sent: modify your source document and/or its augmentations, enable or disable viewing permissions, add password or email address protection, authorize printing or downloading, all remotely.

Easily drag and drop additional editorial content with our intuitive editor. You don't need to know how to code or tamper with your documents to add videos, audio files, images and useful links to your PDFs.

Receive an email alert when your documents are consulted and measure their impact on your target audience (number of pages read, reading time, etc.)


Can't find a good example? Wondering how to get the most out of the ARGOflow solution for your business and documents?

Contact one of our account managers (account.managers@ar-go.co) and tell us about your needs, we are here to help you.